Date/Time
Date(s) - 05/02/2015
8:30 am - 10:00 pm
Location
Hotshots Volleyball Club
Categories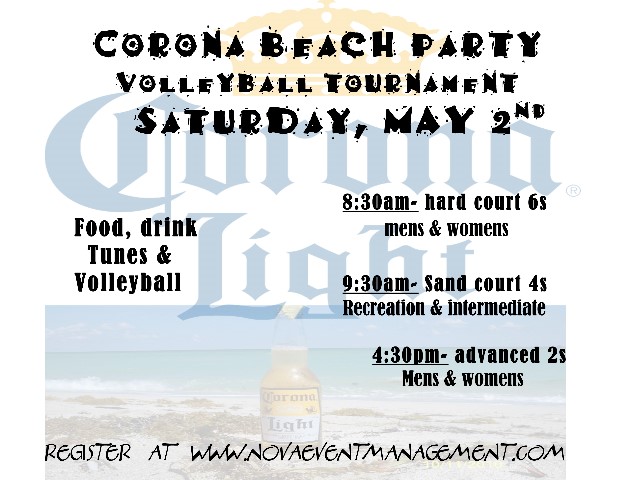 Online registration is now closed.  We still have a few spots available in a couple of divisions, so give Hot Shots a call and ask a manager or stop in 1 hour prior to the start of the tournament.
This weekend we have the tournament of all tournaments. It's our Corona Beach party Volleyball Tournamnet!!! It used to be called something else, but we'll let you figure that one out. All I know is that this is our last indoor tournament of the year before we move to the beach. So for all of you indoor people, make sure to find a team and get signed up early!! Otherwise have fun looking like a baby deer trying to walk for the first time in the charlotte sand. We are offering hard court M/W 6's starting in at 8:30 am for $150. Our 4's sand tournament has recreation and intermediate divisions starting at 9:30am for $25 a person. Then to wrap up the day we have advanced men's and women's 2's starting at 4:30 pm. So pick a tournament or 3 to play in and get registered early. This tournament always fills and is always very competitive. So see ya there!!!!
Bookings
Bookings are closed for this event.