Date/Time
Date(s) - 04/30/2016
8:30 am - 10:00 pm
Location
Hotshots Volleyball Club
Categories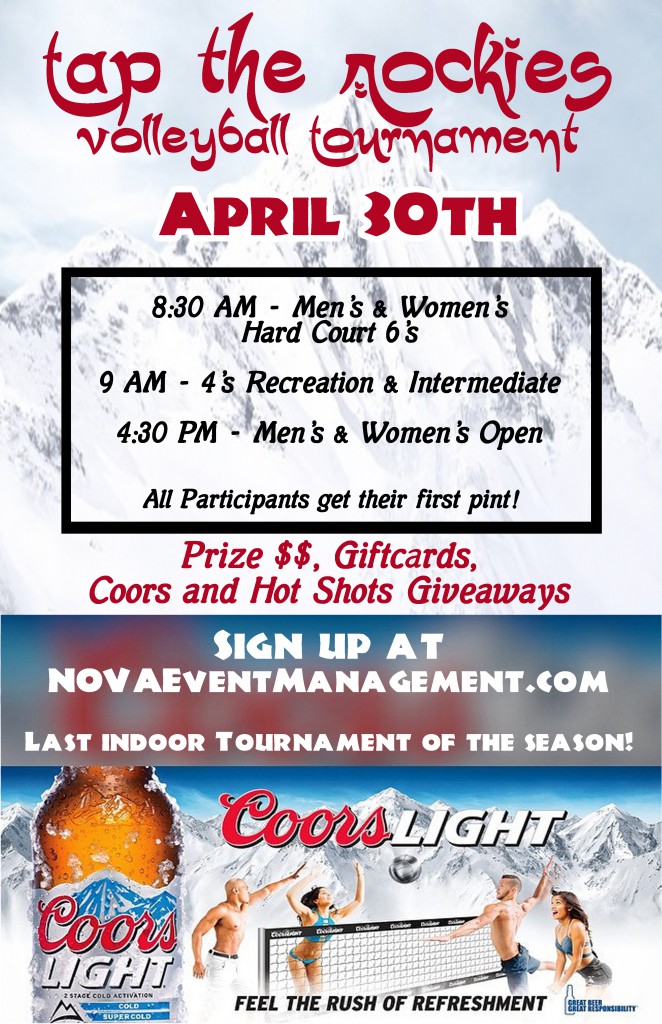 Online Registration is now closed!! Make sure to give Hot Shots a call or stop in at least 30 minutes before the start of each tournament so you can register your team!!
We have the grand finale of the NOVA spring tournament series tournaments with our Coors Light Tap the Rockies event.  This is an all day event and we have 3 tournaments throughout the day that you can choose from. Starting off in the morning, we have an advanced reverse coed 6's tournament on the hard courts.  Check in to begin at 8:30 am and it's just $150 per team.  In the sand, we have Recreation and Intermediate 4's check in to begin at  9:00 am.  To wrap up this day's events, we have a men's and women's 2's event, check in to begin at 4:30 pm.  So make sure you mark your calendars and keep yourself free for this weekend.  This is our last event before we move outdoors!!! The NOVA fee is required for this event.
Bookings
Bookings are closed for this event.